PMP Study plan preparation largely varies based on your overall project management experience, how much dedication and commitment you have towards PMP Certification.
As you are reading this post, I assume you have made your mind to achieve PMP certification. So the next question is how to prepare a PMP study plan that will best suit you.
Yes. You heard me right. PMP Study plan will vary from person to person based on variety of parameters that we will see in this post to a great detail. Also in this post we will go through the step by step process of making the PMP Study plan that suites you.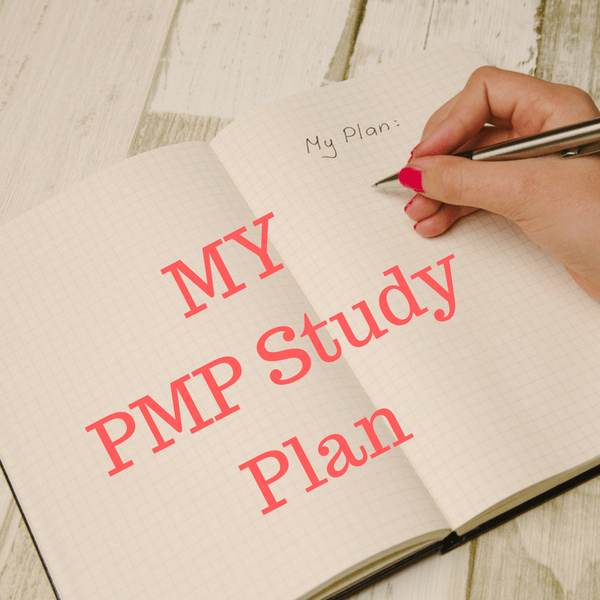 How to Prepare a PMP Study Plan – Let us understand first, what is involved in making a PMP study plan that best suites you. To make this PMP study plan, we will follow step by step approach stated below.
Steps To Make PMP Prep Plan And Execute It
Understand the PMP Certification Prerequisites
Initiate your PMP Study Plan
Developing the PMP Study Plan
Develop the PMP Study Plan schedule
Execute your PMP Study plan (How to prepare for PMP Certification Exam and Pass?)
Monitor & Control Your PMP Study Plan
Be sure you are ready to take PMP Exam
These steps are explained below in detail.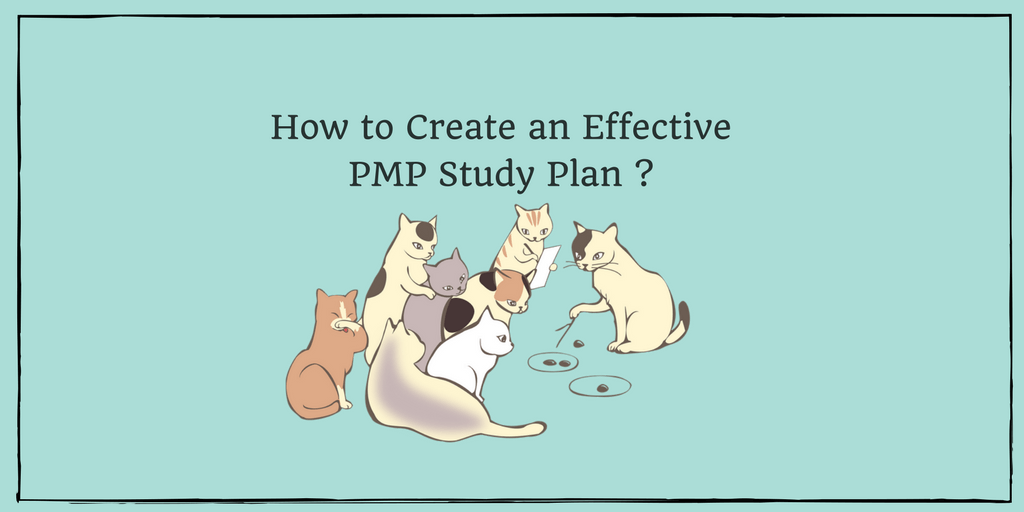 Step 1 – Understand the PMP Certification Prerequisites
Since you have decided to take PMP Certification and looking for a best suitable PMP study plan that works for you, I assume that you have understood the basic information such as what PMP Certification is all about? What are the PMP Certification Prerequisites and what is the format of PMP exam, etc…
Step 2 – Initiate your PMP Study Plan
Think reality
PMP Certification is the most valuable certification for project managers. Achieving the certification is not so easy. One needs to spend quality time and effort to prepare for the certification. Most importantly during PMP preparation, you need to prioritize your activities so that you give sufficient time for PMP exam preparation.
Motivate yourself
After completing the PMP Certification, you would have all the knowledge and best practices pertaining to project management. There are more chances for you to grow your career in good pace.
Set the expectations to family and friends – During the PMP preparation, you may not be able to spend quality time with your family and friends. So please set the expectations correctly to your dearer people and make them aware that you are preparing for world class project management certification, which would boost your career in future.
It is very vital to buy in time from them for the PMP preparation. Believe me I am not going away from the topic. This step is very essential, as you would quickly realize the need of this step, once you start your PMP preparation.
Also start thinking about your objective of PMP study plan during this step. In how many days/weeks/months you wanted to complete this, etc…
Step 3 – Developing the PMP Study Plan
This is the step, where you plan everything that you are going to accomplish during your PMP preparation. Think about the following questions before we start developing the schedule.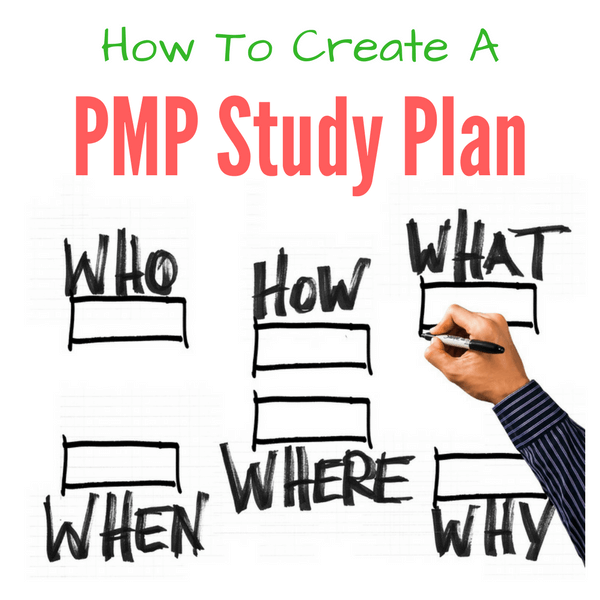 What is your objective for PMP Certification?
Every ones objective is to finally achieve PMP Certification. But here you need to write your objective in such a way that what is the approximate time period you have in mind (optionally a quick brief about your time constraint), to complete your certification.
For example,
I wanted to complete PMP Certification before DD-MMM-YYYY date, before I go on my long vacation.
Targeting PMP Certification within 3 months from now (Because I wanted to use this to meet one of the KPI for this year).
I wanted to complete the PMP Certification within 5 to 6 months of time, before my next big assignment kick off.
What to study?
One of the important aspects of PMP study plan is to choose the best study guide that suites your reading style.
By now you might have decided which PMP study guide you need read for the PMP preparation. Along with it, see around to figure out some quality websites or blogs for step by step tutorials to have more clarity on the PMP concepts. In this website/blog, I have plans to create step by step tutorials to cover most of the PMP concepts, required for the PMP exam.
If you are not a PMI member, become PMI member to get the free PMBOK downloaded from PMI official website. Becoming a PMI member will have other advantages such as getting discount when paying for the PMP Certification, access to lot of books and materials, etc… If you do not wanted to be a PMI member, you can still get the PMBOK, by purchasing it from any of the online stores such as Amazon.
You need to study the PMP Study guide and PMBOK side by side to get best results. Every concept of the PMBOK and PMP Study guide should be included in your PMP study plan.
Join study groups
Join one or more study groups, where you will have lot of discussions around the PMP concepts. This is really is an easy and effective way of preparing for PMP. Combine your friends or colleagues in the preparation, or online groups to ask questions, get information on other resources available. Also there are lots of PMP forums where, tricky PMP questions are published and answered. Join quality online PMP communities and utilize the information. I see LinkedIn groups are good source for this purpose. "I wanted to be a PMP" linked in group is my personal favorite. Just in case, if you are able to find any other quality groups from other social media join them.
Find out sources where you can get access to FREE quality PMP mock exams. In this website/blog, I have plans to create good quality questions that I have prepared over the past few years. This would include chapter wise questions as well.
When to Study? How long the PMP preparation takes?
It all depends on how much time you are able to spend on each day for PMP preparation. Assuming that you are a working professional, Ideal time would be to spend 2 to 3 hours every week day and more number of (5 to 6) hours on the weekends. This way you would be spending around 15 to 21 hours at every week.
This would be more than sufficient for you to crack the PMP exam. Due to your work pressure, or any other constraints, if you are not able to spend around 15 hours a week, do not panic, as this is the best case scenario, which may not be possible for everyone, every week. So keep you plan realistic and try to strict to the plan as much as feasible.
How much money I can spend on PMP Certification? What PMP PREP resources I have?
While preparing for the PMP exam, there are few things mandatory, for which you need to spend your money. All other optional, you have choice whether to go for it or not, depending your budget constraints.
Basic PMP Resources Recommended
35 contact hours of PMP education – Cost will vary depending on face to face training or online training.
PMBOK – Though nowhere it is said as mandatory, it is strongly recommend to get the PMBOK either by downloading it from PMI official web site (if you are PMI member) or purchasing from any online store.
PMP Study Guide – To make your reading simplified, a study guide which suits your reading style would really help.
Free Online PMP Tutorials on PMP Concepts
Free Online Mock Tests.
Other than that, there are few online courses, study materials, mock tests which are not free. Depending on your budget constraints, you may decide whether to go for any of these or not. Any of these resources may simplify you learning experience. However please note that these are optional. Without these commercial resources also one can crack the PMP exam.
Below is the screen shot of PMP Study plan excel template.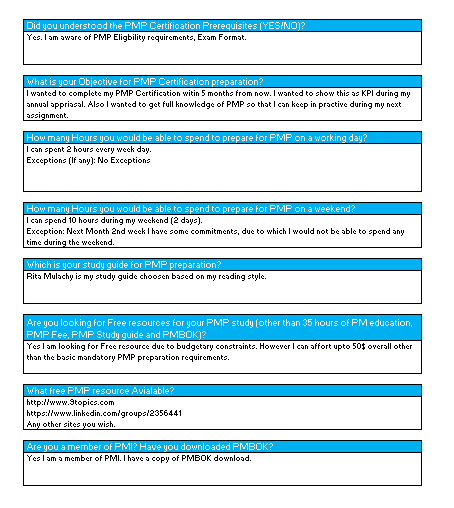 Step 4 – Develop the PMP Study Plan schedule
We have explored lot of things, during the previous step Planning. Now it is time to start preparing our PMP schedule.
Firstly, create a work breakdown structure containing all the chapters, knowledge areas, ITTO (Input, Tools & Techniques, Outputs), and detailed concepts. Make the WBS in such detail, that it would be logical or reasonable small entity to manage as a task or activity.
I have given below the topics I have created by knowledge areas. If you wanted to have more detailed plan, you can further detail it. However for the purpose of this tutorial, I am trying to create the schedule to the extent of knowledge areas to simplify our planning exercise. Just in case, if you wanted to have a bit more detail, expand the WBS (work breakdown structure) further.

When should I take breaks?
Try to plan some breaks in between. Breaks are necessary whenever you feel as exhausted. Take breaks, gain the energy and again start your preparation.
Step 5 – Execute your PMP Study plan (How to prepare for PMP Certification Exam and Pass?)
In this step, you need to prepare each topic according to the PMP study plan you have prepared in the previous step. If you are spending 2 hours in preparation, try to study with FULL FOCUS on the concepts without any deviations. It is very easy to get into sidelines, when preparing for PMP. So motivate yourself, and show your dedication and commitments to complete the preparation as per the PMP Study plan.
Rules to follow during PMP preparation
Understand the concepts very clearly without any ambiguity. If you have any questions, refer to the other materials, ask in the right forums and clear all your confusions.
DO NOT MEMORIZE ANY TOPIC OR CONCEPT OR FORMULA. Rather you need to understand the concepts so that you do not need to memorize anything. If you start memorizing the concepts, as I mentioned earlier, you will surely stop the preparation at a point. Memorizing increases the stress during the study.
Complete chapter end exercises without looking at the concepts. This way, even if you find more wrong answers, it is good for you. Because you would make your lessons learned from the mistakes, and make sure you would not repeat those mistakes on the same topics.
ITTO (Inputs, Tools & Techniques and Outputs) and Formulas are very logical. There is absolutely no need to memorize them. Do not memorize, instead understand the logic behind the ITTO s.
Prepare your own study notes or follow the ones that are available in the internet.
Read PMBOK and study guide side by side – Lot of people say PMBOK is difficult to read. However if you consistently read two or three chapters with patience, you will adapt PMBOK style of reading the book and you will be able to follow. To make the life even easier, start with PMP any study guide of your choice that suits your interest. After reading a chapter in study guide, read through PMBOK corresponding chapter, to understand the concepts clearly.
Read Consistently – Committing to a plan and studying consistently everyday according to the plan is the most important thing as part of the PMP preparation.
Take short breaks whenever you feel you are exhausted. Come back again with fresh energy and enthusiasm to start the preparation.
Step 6 – Monitor & Control Your PMP Study Plan
In this step, you compare your PMP Study plan vs your actual PMP preparation status. Just because of the schedule, do not compromise on the quality of your PMP preparation. If you have any questions or doubts clarify them immediately.
What If I missed the PMP Study Plan schedule?
Do not panic. This is absolutely normal. I feel there is no one in the world that completed their preparation with no hiccups. If you miss the schedule, see if it can be adjusted in spending some extra time, during your following weeks. Otherwise tweak (change) your plan and re baseline your new PMP study plan.
Step 7 – Ready! Get Set Go (Be sure you are ready to take PMP Exam)
In the last few days before your exam, do revisions to your study notes, to gain more confidence.
While practicing the mock tests, if you are consistently getting approximately 80% score in multiple mock exams, this will indicate that you are ready for the exam. Yes, only good study, understanding the concepts clearly and practicing the quality mock tests makes your dream come true.
Conclusion
In this post, we have created the PMP study plan that best suits you. If you have any queries or feedback, please drop a comment below. I would be glad to here from you.
By the way, you can download the PMP Study Plan excel template below for absolutely FREE  by singing up below.