In order to crack the PMP exam, picking a best PMP book is very critical. This blog post provides detailed analysis on the four popular books Rita Mulcahy, Head First,  Andy Crowe and Kim Heldman. The best PMP book is the one which suites to your reading style and interests.
There are good amount of study guides available for the PMP preparation these days. This post will provide a detailed analysis on the writing style of each book and other pros and cons. With the help of this information, let us see which would be the best PMP book for cracking the PMP exam.
So, which is the best PMP book for preparation?
Let us understand first what we should expect from the PMP book.
The best PMP book should have the following characteristics in the same order as mentioned.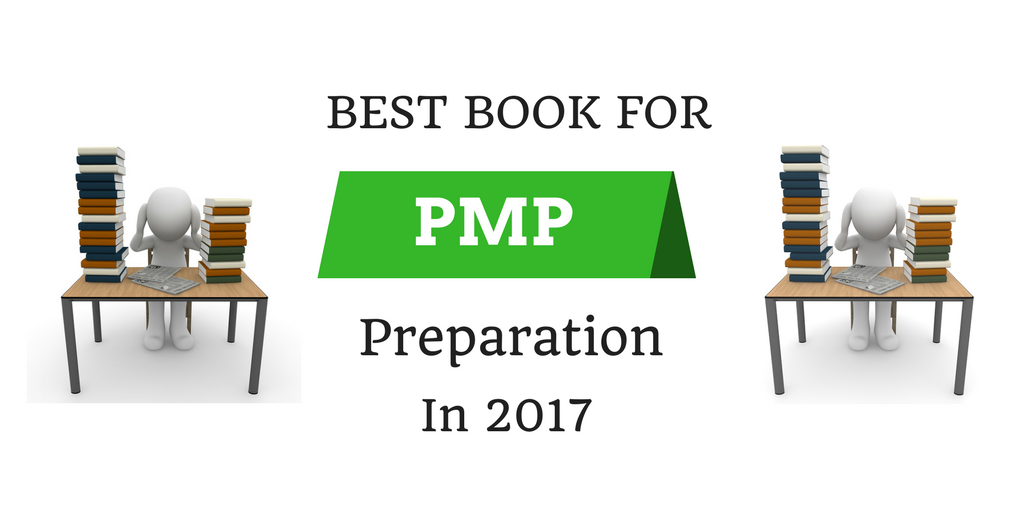 Best PMP book – What Characteristics Should It contain?
It should have the good coverage of PMP exam syllabus.
It should have an easy to understand format or style. Meaning that readers should be able to follow the book easily. Keeping things so simple instead of making a complex topic even more complex.
Good examples that explains the concepts clearly and easy to remember and follow method. I would say explanation should be in a brain friendly format.
Other useful content such as exercises, sample mock exams, access to online forums etc…
While choosing the study guide, one should think about the above mentioned points primarily.
Which is the best PMP book? 
Answer to this question really depends on the interest or reading style of the person who is actually going to read the book.
Every book has its own style of expression to make concepts clear to the readers. As I mentioned earlier, there are plenty of choices to choose from, when you opt for a best PMP book.
The most popular and bestselling books are picked and analyzed in this post. I have discussed about each book as per my personal opinion by considering the above mentioned points.
Disc: The below explanation is only from my personal opinion, which may be different in any readers perspective. My intention is not to devalue or overvalue any book. This review is only to help readers to choose the book which will suite to their interest or studying style.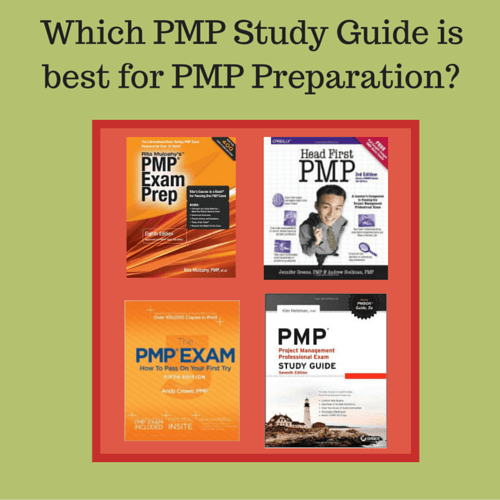 PMBOK – A Guide to the Project Management Body of Knowledge
PMI has standardized the solutions to all common problems that occur mostly in every project, in the form of processes, procedures and best practices.
PMBOK is the standard or guide containing all these processes/procedures and best practices to resolve or prevent the common problems.
PMI has collected this information from variety of sources like recognized practitioners to institutions. PMBOK
Provides guidelines for managing individual projects
Defines project management related concepts
Describes the project management life cycle and its related processes
Also describes about the project life cycle.
Promotes a common vocabulary or terminology for using and applying project management concepts.
PMI published PMBOK as their official study guide for the PMP exam. Though PMBOK is the best PMP book, lots of people face difficulty in reading topics and chapters because of its text book writing style.
Hence in order to first understand the concepts in a simplified manner, the following books were recommended. PMBOK can be used as a side by side reference along with any of the below mentioned books.
Rita Mulcahy's PMP Exam Prep book
This book is so popular that, every PMP aspirant heard about it at least during their journey of the PMP certification.
Coming to the point, this book explains the topics in so detailed format and also provides a lot of tips and techniques on every concept, where required. This book follows the similar structure as PMBOK in terms of chapters, and has lot of details in the real life project management.
This book explains the project management activities in sequence. Rita's process chart is so popular for this reason.
From a coverage perspective, it has reasonably good coverage of the contents required for passing the PMP Exam. However, Rita's book does not have enough detail on all ITTO s. Hence recommendation is to read this book along with PMBOK side by side.
This book makes it different from others, in explaining very good fundamentals of project management. I would say these fundamentals are very much useful for any project manager in their real life project management activities, not just limited to the PMP Exam.
This book has so much text to read. For theory type of concepts, it makes a little bit difficult to read lengthy explanations. However, if you have patience and reading interest with this style of books, this book will give you very good insights of project management concepts.
Rita's chapter-end exercises have medium level of difficulty.
And this book contains very good tips and tricks explained at every important concept from PMP exam perspective.
Head First PMP
Head First PMP book is named as brain friendly book. This book is completely explained in a visual format, with lot of story building and exercises with lot of fun across the concepts.
So the reader will feel like reading stories not the project management concepts.  Every chapter is explained with a story mixing with lot of fun into the subject. That is the reason this book is known for its brand as "brain friendly book".
When I read this book, I never felt like I am reading project management book.
This book has good coverage from PMP exam perspective. Again recommendation is study this book along with PMBOK side by side.
Reading this book is fun. I do not have to explain anything else apart from these.
I found some errors on the contents of this book. Some readers may feel uncomfortable when reading those topics. However the errata are available through Head first portal.
Head first chapter-end exercises have medium level of difficulty. This book has lot of exercises built-in into the middle of chapters to make the reader understand the concepts clearly and test on a specific topic.
However the final Head First Exam given at the end of the book has good questions. These questions are a little bit less difficult than the actual PMP exam questions. This 200 questions exam is an added bonus to this book.
Last but not least, the funny situational and story oriented images also makes the user remember the concepts and situations clearly and in a simple fashion.
Andy Crowe's The PMP Exam: How to Pass on Your First Try
I must say WOW after reading this book. This is the most simplified book on PMP exam. The motive of this book is to make the reader just pass the PMP exam and nothing else.
This is a very cool book explained every concept in a very simplified, plain, easy to read and understandable format.
One important thing about this book is, every concept is explained by going straight to the point, instead of discussing around the topic.
Though this book covers almost everything you need for the PMP exam, it is recommended to study this book along with PMBOK.
This book is easy to read. Every chapter is simple and short.
At the beginning of each knowledge area the diagram that explains the sequence of activities is really helpful.
Chapter end questions are bit easy.
This book has also good Glossary section and a final exam with 200 questions as bonus.
Kim Heldman's PMP: Project Management Professional Exam Study Guide
PMBOK explains the project management concepts by knowledge areas. Most of the other books follow the same pattern.
This book is different from the others, as it explains all the project management concepts by process groups, instead of knowledge areas.
As we learned that process groups show the sequence of the project, you will see that it is to follow the explanation, which will show you the real sequence while learning concepts.
Readability is good.
Instead of knowledge areas, this book explains PMP concepts process group wise. So this book is different than all other books.
An alternative approach to PMBOK, in terms of learning the concepts.
Conclusion
Now let us see the question of the topic, which is the best PMP book?
Is this answered? No, right!  The reason is everyone's interest and reading style is different from others.
As I mentioned earlier, there are many PMP books available in the market.  However I picked the top bestselling or popular books and provide my analysis with their detailed characteristics in the above post.
I tried to explain about how each book is designed. Now as a reader, you think about your reading style, interest and make best judgement out of it and shortlist the best PMP book which suits your reading interest and style.
Last but not least, reading PMBOK is not an optional thing while choosing any of these study guides. One need to study PMBOK along with any of these study guides to get the best out of it, not just to learn the project management concepts, but also to PASS THE PMP EXAM.
By the way, which is the book you have picked for your PMP preparation? How are you preparing for the PMP exam?
Please shout a comment, in case if you have any queries regarding this post or any other PMP topics. I would be glad to help you.
Please Rate This Article!
Summary
This blog post emphasizes about the four popular PMP study guides and also the PMBOK. It explains briefly about the reading style and other pros and cons of each of these books. Everyone's reading preferences are different. Hence this post helps you to choose the best PMP Book that suits your reading style.