It's hard – if not impossible to pass PMP certification exam without relevant project management experience and understanding the PMP concepts in detail. PMI designed PMP certification requirements or prerequisites to include both the PMP conceptual understanding as well as professional project management experience.
Perhaps preparing for PMP certification is not just learning some content from the PMBOK or any other PMP study guide. It requires real project management experience to pass the PMP certification exam.
Most of the people, who fail the PMP certification exam, do not have either real project management experience and/or do not aware fully the PMI terminology and concepts for project management. Hence understanding of information pertaining to PMP Certification prerequisites is essential.

In this PMP Certification Prerequisites guide, I'm going to start with the basic question, after all what is PMP Certification is all about?
And then I am going to cover all the below mentioned important information pertaining to PMP Certification Exam along with PMP Certification prerequisites.
What Is PMP Certification?
Is it Really Worth Taking The PMP Exam?
PMP Certification Requirements or Prerequisites
PMP Certification Exam
PMP Exam Passing Score
Process Group wise Question Distribution
PMP Certification Exam Cost or Fees
How difficult is PMP certification exam?
Who Can Appear For The PMP Exam?
What Is PMP Certification?
Project Management Institute (PMI) offers, PMP (Project Management Professional) Certification, and is a globally recognized certification for project managers.
PMP Certification is a multiple choice exam, which needs to be attempted through any of the PMI authorized prometric centers. PMI offers paper based exams at the locations where online prometric center facility is not available.
Is it Really Worth Taking The PMP Exam?
Several surveys resulted that, members who obtain PMP certification have the following benefits across other project managers in the industry.
Career Growth

PMP certified project managers have greater salaries than other project managers who are not certified.
As it is a global certification, your project management skills, knowledge will be recognized globally.
PMP Certification will provide confidence level for the recruiters globally to hire you, hence career opportunities will grow

The project managers, who obtained PMP certification, have more ability and efficiency in resolving project related issues, than others.
As PMP certified project managers would be following PMI guidelines, processes and methodologies for project management, which are tested best practices by many practitioners, there will be less chances for failures in the project.
As a PMP Certified professional, you can increase your network, by connecting with other PMP Certified professionals globally through PMI.
PMI conducts the salary survey from many project manager practitioners across the globe to unleash the value of certified project managers. The survey is conducted by PMI with 26000 respondents in 34 countries. Below is the screenshot from PMI official website.


PMP Certification Requirements or Prerequisites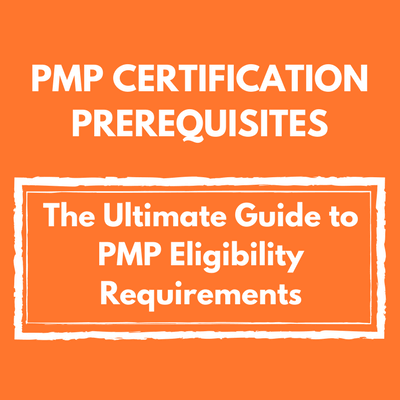 As part of PMP certification prerequisites, PMI has described two eligibility requirements. Both these two requirements must be fulfilled by the PMP aspirants to appear for the exam. They are
Professional project management experience
Education on PMI's Project management
Professional Project Management Experience
If you are holding a bachelor's degree, you need to have 4500 hours or 3 years or 36 months of project leading and directing the tasks specified by PMI.
If you are a high school graduate, you need to have 7500 hours or 5 years or 60 months of project leading and directing the tasks specified by PMI.
PMI considers only non-overlapping project management experience. If you are managing multiple projects during the overlapping period, PMI considers only the experience of one of those projects as eligibility.
Also while filling the PMP application, the project management experience hours needs to be documented against each of the PMP process groups (initiating, planning, executing, Monitoring and controlling and closing).
For example, you need to document for each non overlapping project, how many hours you have spent in the tasks pertaining to each of the above mentioned process groups.
It does not mean that, for every project, you need to have experience in every process group. Overall, if you have project management experience that covers all process groups across projects, then you are good to go.
Very importantly, PMI considers the project management experience which has been accumulated with in the recent 8 years, prior to submission of your PMP application.
Education On PMI's Project Management
This eligibility says, as a PMP aspirant, you need have 35 hours of formal project management education. Each hour is equal to one PDU (Professional Development Unit) roughly.
PMP education is offered as a class room session or online training from any of the PMI REP (Registered Education Providers). Typically this would include 4 days of classroom session or 40 hours of online training.
Before submitting your application, you must have completed this training with the certification from the training institute. However, there is no restriction as such from PMI, on the validity or expiry of this 35 hours Project management education. Meaning that, you can still appear for the exam with your old project management 35 contact hours certificate, if any.
I came across many practitioners who are in the same profession of project management, but do not pass the eligibility criteria required to take PMP certification exam. In these cases, one can consider CAPM exam, which requires less amount of project management experience compared to PMP certification. As we have just seen the PMP certification prerequisites, let us discuss now in more detail on the PMP certification exam format.
PMP Certification Exam
PMP certification exam needs to be completed within 4 hours of time. The exam includes 200 multiple choice questions, with four answer choices for each question. Meaning that, you need to answer 200 questions in 240 minutes. There are two categories in these 200 questions. They are
175 questions – Each question scores 1 point.
25 questions –PMI included these questions for experimental purpose (for future inclusion in the exam). Meaning that, these questions are not going to obtain any score in the project management professional (PMP) certification exam, even if they are correct.
The tricky part here is that, as a PMP certification exam taker you would not know which ones are which. Hence you need to prepare to give correct answers for all 200 questions.
PMP Exam Passing Score
PMI has not published what is passing score for PMP certification exam. The passing score for earlier versions of PMP certification was 61% approximately. However PMI recently changed the exam strategy for passing score. PMI determines this, on the basis of difficulty level of overall PMP certification exam. The following snapshot from PMP handbook, emphasizes about the PMP minimum passing score.
PMI introduced a way of evaluating the candidate in three levels against each process group. They are Proficient, Moderately Proficient and Below Proficient. However, how many of each of these levels result in passing the certification is unknown. In some cases, candidates who received two "Below Proficient" are also resulted in pass. PMI actually see the overall performance of the exam based on the level of difficulty factor of the questions against each candidate and decide the final result.
In experience candidates who are preparing for PMP certification should at least aim for 75% to 85% score in each of the popular online mock tests, to know whether they are ready for the exam or not.
Process Group wise Question Distribution
Below table shows the question distribution against each process group and its difficulty level.
| Process Group | Percentage of Questions | Number of Questions | Difficulty Level [Low (1) to High (5)] |
| --- | --- | --- | --- |
| Initiating | 13% | 26 | 3 |
| Planning | 24% | 48 | 2 |
| Executing | 31% | 62 | 4 |
| Monitoring & Controlling | 25% | 50 | 5 |
| Closing | 7% | 14 | 1 |
PMP Certification Exam Cost or Fees
PMP certification cost or fee varies for PMI members or non members. If you get PMI membership you will get access to load of PMI knowledge repository of project management materials, white papers, books including PMBOK 6th edition, webinars and events and the list do not end here. And the PMI membership costs you 139 USD (129 USD plus an addition 10USD of processing fee).
PMP certification cost is 405 USD, for a PMI member.
PMP certification cost is 555 USD for a non PMI member.
How difficult is PMP certification exam?
It all depends on how well you have prepared for the PMP exam. You need to understand the concepts closely in a simplified manner so that you don't need to memorize anything for the sake of exam.
Many people feel that the exam is difficult to crack. However if you prepare well consistently, and practice good quality mock tests, it is not impossible to break the ice.
Understanding the concepts in a simplified manner and the practicing a lot of quality mock test is the key to success.
Who Can Appear For The PMP Exam?
I have seen lot of questions on internet, such as "I am a fresher, Can I appear for PMP exam?" or some other questions such as "I belongs to YYY industry vertical, Can I write PMP Certification?".
My simple answer to these questions is, No matter what industry vertical you belongs to, you can appear for PMP certification, if you are able to fulfill the PMP certification prerequisites mentioned above and you have well prepared for the exam.
Conclusion
If you are reading the PMP Certification prerequisites guide, I assume you are aspiring for PMP certification, at least in the near future, if not immediately.
The key to success here is to understand the concepts in a simplified manner and study consistently.  Start preparing for PMP in a smarter way not the harder way.
If there are any questions or doubts, I would be glad to assist you. Please comment below, if you have any feedback on the post.
By the way, have you checked your eligibility for the PMP exam?  How are you preparing for the PMP certification exam?